Columbia College Rose Research Ambassadors
The Columbia College Rose Research Ambassador program allows students who have successfully completed Contemporary Civilization to promote a culture of scholarship, investigation and community that Contemporary Civilization fosters early on in students' time at Columbia. It provides an opportunity for students to consider how Contemporary Civilization informs their intellectual investigations in specific fields and/or areas of research.
Writing about and reflecting on research, and by building on their earlier exposure to texts covered in CC, Research Ambassadors consider research as an extension of their engagement with core texts. They are able to demystify the research process, allowing them to consider how research further strengthens the skills they developed in Contemporary Civilization. The program allows students to consider how research gives them the flexibility of mind required in any post-graduate plan they seek to pursue, a mission that is at the heart of Contemporary Civilization.
Research Ambassadors are also available for near peer advising*, and contribute blog pieces to a webpage on the Academic Affairs website. The objective of this blog is to allow students to reflect upon their CC Journey, to promote a culture of research and scholarship among undergraduates, to empower the broader undergraduate community to engage in or consider research opportunities.
Read the CC Rose Research Ambassadors Blog.
* Students can find the near-peer advising schedule below under each fellow. Please note, the advising sessions are open to all and students can join the session at any time during the allotted hour.
2023-2024 CC Rose Research Ambassadors & Near-Peer Advisors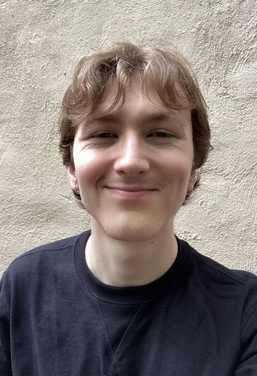 Chase Bush-McLaughlin, CC'24
Chase Bush-McLaughlin is a current senior pursuing a major in philosophy and a concentration in French and Francophone Studies. He currently edits for The Columbia Review, has been a resident of USL's Writer's House SIC, and is an editor emeritus of Gadfly. Chase is happy to chat about research in his major and concentration, navigating the Core in New York and abroad, community engagement on- and off-campus, work-study, SICs, or just a good book.
Chase's Fall 2023 Near-Peer Advising Schedule
Chase will meet with students via Zoom (Zoom meeting info is linked to the dates above).
---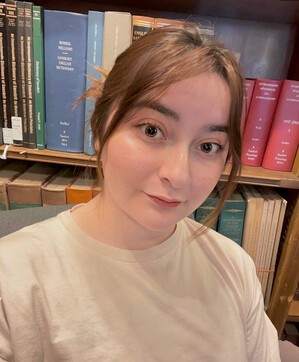 Eli Andrade, CC'24
Eli Andrade is an English major at Columbia College. As a Mellon Mays Undergraduate Fellow, Eli has developed a variety of literary research projects that investigate the transformative potential of storytelling within social struggles for liberation, particularly that of women and the LGBTQ+ community. Eli's research interests are shaped by their lived experiences as a queer Latina from El Paso, TX and can often be found advocating for women and LGBTQ+ students through the office of Multicultural Affair's Queer and Trans Advisory Board and Gender Revolution, Columbia's only club for trans and gender non-conforming students. As a scholar-activist, Eli hopes to help fellow student researchers envision impactful projects.
Eli's Fall 2023 Near-Peer Advising Schedule
Eli will meet with students via Zoom (Zoom meeting info is linked to the dates above).
---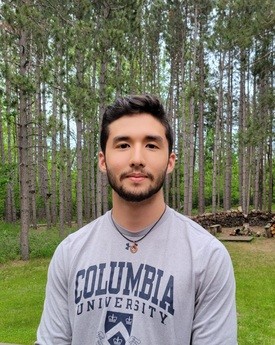 ​Ardaschir Alexander Arguelles, CC'24
Ardaschir is a senior double-majoring in Classics and East Asian Studies. He is involved with Columbia Rugby and Columbia Christian Union, and is podcast head for the Columbia Witness. His interests include the relationship between religion and literature, the interactions of Christianity, Buddhism, and Islam in Central and East Asia, and the philosophy and practice of creative writing. As someone who struggles to specialize, he is happy to talk about the process of choosing a major or narrowing down a research topic, how to get the most out of the Core, how to find opportunities for study abroad, the writing process, and any wild and surprising hypotheses or narrative possibilities.
Ardaschir's Fall 2023 Near-Peer Advising Schedule
Friday, September 15th, 2023 from 9am-10am EST
Friday, October 6th, 2023 from 9am-10am EST
Friday, December1st,2023 from 9am-10am EST

You can find Ardaschir in the John Jay Lounge for Near-Peer advising.
---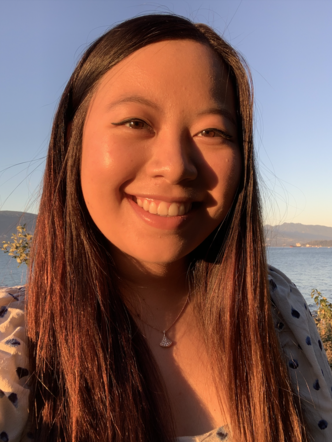 Donna Qi, CC'24
Donna Jiajia Qi is a senior double-majoring in Economics and History from Shanghai, China and Vancouver, Canada. Her research interests include developmental economics, decolonization studies, and modern Chinese history, with a particular focus on gender and class. She is currently working on an intellectual biography of Eileen Chang, a transnational Chinese feminist writer. Beyond serving as a Rose Fellow, Donna is the coordinator for Columbia's Global Ambassador Program, and is also involved in Lion Fund, the Undergraduate and Global Recruitment Committee, Columbia's chapter of the Small Claims Advisory Service, and ROOTED. Donna is happy to chat about studying abroad, finding funding opportunities for research, NYC's best food spots, and anything else that comes to mind.
Donna's Fall 2023 Near-Peer Advising Schedule
Donna will meet with students via Zoom (Zoom meeting info is linked to the dates above).
---
Mrinalini Sisodia Wadhwa
, CC'24
Mrinalini Sisodia Wadhwa is a senior majoring in History and Mathematics interested in the intersections of gender, religion, and law. She has pursued projects ranging from twentieth-century Indian feminist activism to eighteenth-century French missionary writings, working in British, French, and Indian archives and as a Laidlaw Scholar and research assistant at Oxford, Cambridge, Columbia Law School, and the Columbia History department. On-campus, she serves as co-founder and 2022 editor-in-chief of the Columbia Journal of Asia, co-editor-in-chief of the Columbia Undergraduate Law Review, chair of the Columbia History Association, and a peer fellow at the Writing Center. She's happy to chat about archives, language classes, cold emails, knitting, the best local hot chocolate, and anything in between.
Mrinalini

's Fall 2023 Near-Peer Advising Schedule