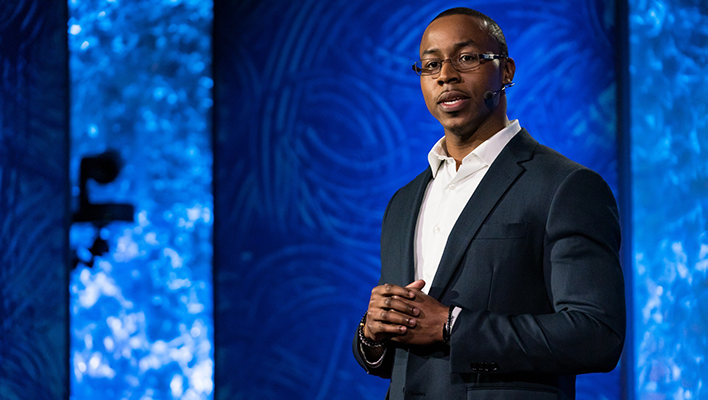 Since 1977, this prestigious honor has been awarded in recognition of students' exemplary public service work and leadership and offers students like Daniels support for graduate or professional school in preparation for a career in public service. Daniels, who enrolled at GS in the fall of 2019, following his own incarceration, has become a prominent advocate for criminal justice reform through his work with the Columbia University Center for Justice, Columbia University School of Social Work, and beyond.
On Wednesday, April 14, the Harry S. Truman Scholarship Foundation announced its selection for the 2021 cohort of Truman Scholars. Among them was Columbia University School of General Studies (GS) student Jarrell Daniels, who enrolled at GS in the fall of 2019 after completing a nearly six-year sentence beginning on Rikers Island, and becoming a prominent advocate for criminal justice reform through public speaking, research, and mentorship efforts.
The Truman Foundation aims to recognize and reward students who exemplify a unique commitment to public service. By investing in emerging leaders from various communities, the Foundation hopes to support young people as they endeavor to make an impact. This year, scholars like Daniels will receive as much as $30,000 for graduate or professional school in preparation for a career in public service. Notably, Truman Scholars have become leaders in academia, research, and health care, and can be found making a difference both domestically and internationally.
During his incarceration, Daniels enrolled in Inside Criminal Justice, a unique collaboration between the Columbia University Center for Justice's Justice-In-Education Initiative and the Queensboro Correctional Facility, where he first recognized his potential to pursue higher education and began to reconsider how he could affect change in an unfair legal system.
After his release, Daniels enrolled at the Borough of Manhattan Community College while championing for criminal justice reform and developing resources for vulnerable youth.
He was named a Justice-in-Education Scholar at the Center for Justice and gave a highly-viewed Ted Talk, discussing his own experience as an incarcerated youth and the power of education and communication in improving the legal system.
"Jarrell has an unshakeable belief in the transformative power of education and an ability to imagine new, better futures for New York's most vulnerable youth and convince others to work toward making them a reality," said Professor Geraldine Downey, Director of the Center for Justice.
Daniels is the founder and Program Manager of the Justice Ambassadors Youth Council (JAYC) Program at the Center for Justice—work that was supported when he was named a Soros Justice Fellow by the Open Society Foundation in 2019. JAYC brings New York City youth together with city officials to discuss community challenges and to co-author policy proposals that seek to reform systems and institutions. In December 2020, JAYC held a graduation ceremony for its fourth cohort of the Youth Council and is currently hosting the fifth cohort in collaboration between the Center for Justice and Harlem Youth Justice Network.
At Columbia, while majoring in African American and African Diaspora Studies with a concentration in sociology, Daniels has only continued to expand his reach. He has worked with the Columbia University School of Social Work, on a virtual reality (VR) experience titled "Digital Arrest" that aims to demonstrate how social media is used as a means to build criminal profiles against inner-city youth through misinterpretation, stereotyping, and racial profiling.
In addition, Daniels was awarded the Rene Plessner Scholarship, a prestigious scholarship for students focused on social justice, as well as the Program for Academic Leadership and Service (PALS) Scholarship. He was named to the Dean's list and awarded the GS Change Agent award at the Student Leadership Award Ceremony.
Lisa Rosen-Metsch, Dean of the Columbia University School of General Studies, shared, "Jarrell Daniels is an amazing student and extraordinary leader. He represents our School in such a spectacular way as he is leading transformative changes at Columbia, in New York City, and beyond. I cannot think of a better candidate to be a Truman Scholar than Jarrell. I am incredibly proud to have Jarrell at GS and thank him and his incredible colleagues at the Center for Justice for their work in making a better and just society."
Looking ahead, Daniels aspires to attend law school after graduating to specialize in constitutional law and public policy. He plans to work as a civil rights attorney and to lead a national campaign to repeal the Thirteenth Amendment's Exception Clause. He would eventually like to serve in the United States Senate and hopes to dedicate his career to ensuring that nobody in our society is forgotten by the government.
"My story is not unique; it is one that belongs to generations of black men in America. My only hope is to change the narrative about people like me. We are more than our worst mistakes. We are human. We deserve to live without the threat of death and we too, want to contribute to making society more fair and just," said Daniels.
Original story can be found here.