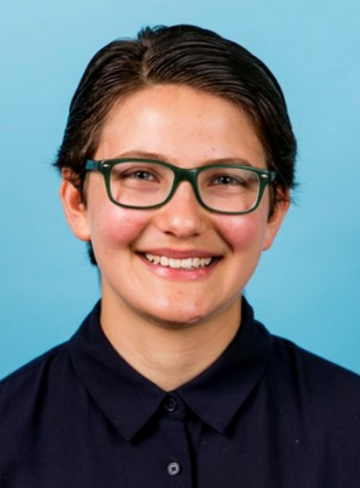 Isabel Schmidt CC'24
, a prospective art history major from Seattle, Washington, has been named a 2021 recipient of the Kathryn Davis Fellowship for Peace. The Davis Fellows for Peace see the study of languages as being imperative to the development of intercultural understanding and conflict resolution worldwide. As a Davis Fellow, Isabel will be studying Japanese at the Middlebury Language Institute in Vermont. Below, she has shared some insights and advice into the fellowship application process as well as some her favorite New York City gems!
---
Why did you apply to this fellowship?
As a prospective Art History major--with a focus in East Asian Languages and Cultures (EALAC)--I applied to the Davis Fellowship to bolster my language skills for a potential museum career in Japanese art. I was attracted to learn Japanese at Middlebury due to their emphasis on a highly immersive and rigorous program of study. I also hoped to gain a deeper understanding of Japan, its culture, and its history. Furthermore, my larger focus on museums, arts access, and curating aligned well with Kathryn Davis' focus on "[using language] skills for the greater good—in peace-related professions and initiatives all around the world."
What is the one piece of advice you would give to someone who is just starting their fellowship application(s)?
Start early! Pretend the deadline is a week earlier than it actually is so you can make sure to plan out your personal statement. For this particular fellowship, make sure to apply to the language school first (there's a $70 fee, which is definitely quite a financial barrier--I would reach out to the fellowship office at Columbia or Middlebury if you need assistance). Afterwards, you'll be sent the email to apply for the Davis Fellowship. It's VERY unclear (or at least it was in 2020, the year I applied), so make sure you keep an eye out for that email. Then click the link, and you'll be directed to the Davis Fellowship application. So don't miss that email!
Definitely contact the fellowship office at Columbia for help and suggestions. Also make sure to focus on the peace aspect of the fellowship. Think about what one of Kathryn Davis' most famous quotes means to you: "My challenge to you is to bring about a mindset of preparing for peace instead of preparing for war." Good luck!
Isabel's favorite New York City:
Restaurant/food? What should I order if I go? Lloyd's Carrot Cake, up by Van Cortlandt Park, is by far the best carrot cake I've ever had. Scrumptiously moist and flavorful. Even better after a cross country meet in the park. If you need more evidence that it's the best (and that the family who runs it are amazing) here are two great articles on the cake and its makers: https://www.bonappetit.com/story/lloyds-carrot-cake; https://www.nytimes.com/2020/12/27/nyregion/betty-campbell-adams-dead.html
Museum? Exhibit? This is an impossible question, especially for an art history major! During the past (non-pandemic year), one of my favorite exhibits was an Ernst Kirchner show at the Neue Galerie. The Morgan Library is also an incredible, totally underrated library and museum. J. P. Morgan was an awful business tycoon, yet his house and art collection is a total gem.
Location or neighborhood - anything specific I should visit? I still remember how much fun I had singing karaoke with a random group of Columbia freshmen I had just met during NSOP in KoreaTown. It's a cool neighborhood.
Share a favorite NYC moment: Morningside Lights (https://www.morningside-lights.com/) was a fun, unexpected, community-centered evening I remember fondly.