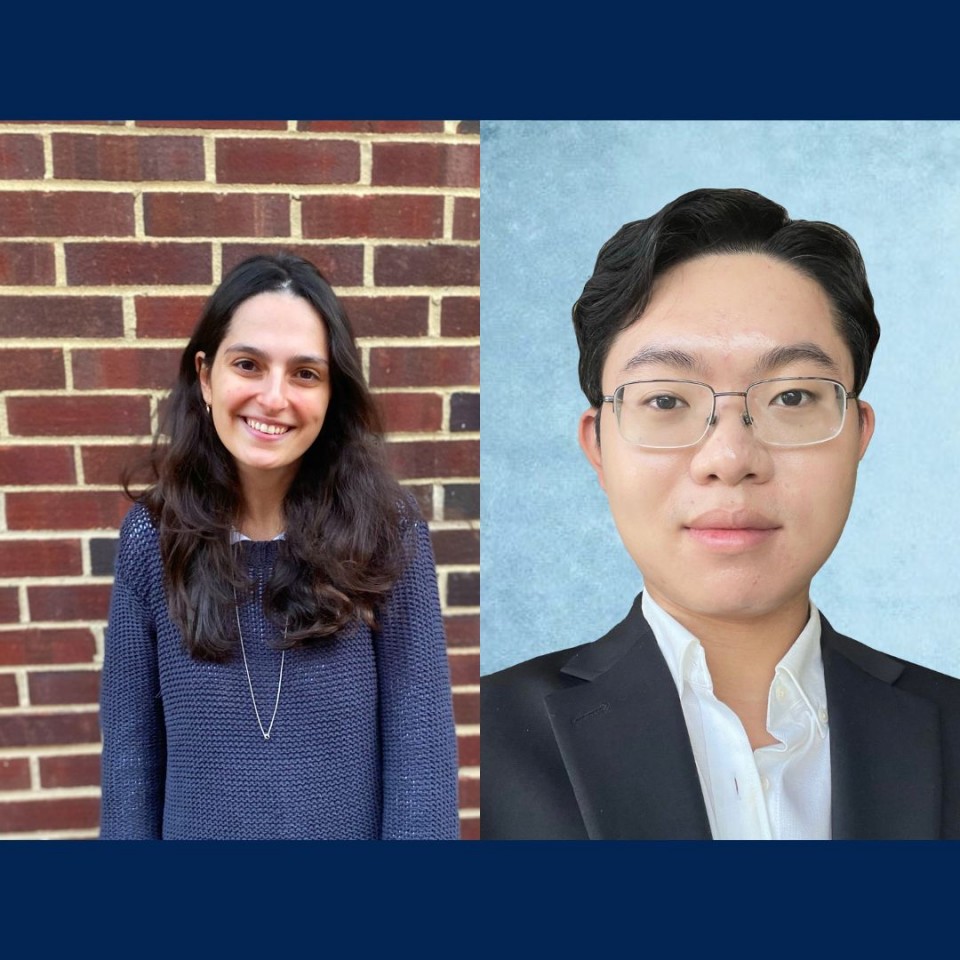 Columbia University is proud to announce that two alums, Julia Udell CC'21 and Harrison Zhang CC'22, have been named 2023 Samvid Scholars!
The Samvid Scholarship was established in 2021 by Samvid Ventures to invest in the graduate education of future leaders who are committed to effecting positive change in society. The program provides professional development support, leadership training, and mentoring in addition to two years of tuition funding for students in graduate schools across the United States. Read more about this year's competition and the full press release here.
---
Meet Columbia's Samvid Scholars!
Julia Udell CC'21
Originally from New York City, Julia Udell CC'21 has long been committed to justice. During her time at Columbia, she volunteered on Rikers Island with the Justice-in-Education Initiative and worked closely with Professor Bernard E. Harcourt on litigation challenging the death penalty and life without parole. She served as a Student Advisory Board member for The Holder Initiative for Civil and Political Rights, an undergraduate fellow for A Jailhouse Lawyer's Manual (the Columbia Law School publication offering legal information to those incarcerated), and an editor for the Columbia Undergraduate Law Review. Beyond College Walk, Julia interned at organizations such as The Bronx Defenders and the Brennan Center for Justice. In 2020, Julia was named a Harry S. Truman Scholar for her contributions and commitment to public service. She graduated Phi Beta Kappa from Columbia College with a degree in History and completed an MSc in Criminology and Criminal Justice at the University of Oxford as a Columbia College Euretta J. Kellett Fellow. After returning from the United Kingdom, Julia moved to Washington, D.C. to work at Civil Rights Corps, challenging the exploitation of incarcerated people and their loved ones. As a Samvid Scholar, Julia will pursue a JD at Yale Law School, with plans to continue working toward a more just legal system and society.
Harrison Zhang CC'22
A native Philadelphian, Harrison Zhang credits his experiences inside and outside of the Columbia classroom for shaping his vision on how to advance the science and practice of medicine. As a double biology and statistics major and Columbia Science Research Fellow, Harrison began participating in research his first-year at Columbia. His mentors, peers, and diverse research experiences across Harlem, Morningside Heights, and beyond helped him fully comprehend the tremendous advancements in technology, increased knowledge of determinants of human diseases, and the necessity to push for deeper commitments to social equality that saturate the 21st Century's landscape. Harrison further credits Columbia's Core Curriculum for endowing his college experience with wordly perspectives which enable him to always think about the bigger picture as a leader. Currently, Harrison is conducting research at Harvard Medical School and will enter Stanford University's MD-PhD program this fall where he plans to focus his graduate studies on computer science. In the future, Harrison hopes to use cutting edge technologies, such as artificial intelligence and genomics, to accelerate the pace with which biomedical enterprises can offer more personalized, accessible, and equitable patient care. As a Samvid Scholar, Harrison looks forward to continuing to draw inspiration from, collaborate with, and contribute to the academic and global communities affiliated with medicine, technology, policy innovation, entrepreneurship and beyond.
Columbia undergraduate students and alum interested in learning more about applying for the Samvid Scholars program are encouraged to connect with Undergraduate Research and Fellowships.